We strive to provide homeowners with the highest quality pavers in Orlando and the surrounding area. We are constantly going above and beyond to make your visions come to life, as excellent customer service is our top priority.
The term "pavers" covers a wide variety of materials and installation sorts. Paver Patios, walkways, driveways, pool patios, bar/kitchen areas, and outdoor fireplaces are all different hardscapes. These distinct areas can make your landscape a real success as an outside living area. We bring one-of-a-kind brick paver hardscape designs including patios, pools, driveways, walkways, outdoor kitchens, and more! We are your one-stop shop for expert advice and top-of-the-line products. Pavers need to flow and fit the property which is why the right hardscape elements can enhance the appearance and value of your property.
Choosing among paving stones for your driveways, walkways, patios, outdoor kitchens, or pool decks is crucial! That's why Orlando Pro Pavers is honored to have the opportunity to introduce our paving company and provide you with our excellent service.
Choose Orlando Pro Pavers for your next hardscape project. We install commercial or residential pool decks, driveways, walkways, garden paths, patios, and much more. In Orlando, Florida pavers add beauty, value, and endless appeal to any residential or commercial project.
Orlando, Florida is an amazing area with a vast variety of houses and styles. There are easy ways to style any house using various pavers. In Orlando, your outdoor living space is an important asset, raising the value of your home as well as reclaiming empty areas of your lawn and garden. A patio, walkway, or driveway can connect the house with various parts of the landscape and define spaces within the yard.
We have been installing various pavers in Orange County for over 15 years. Pavers are the most prominent feature in your landscape. We have used a wide variety of pavers such as concrete pavers, brick pavers, travertine pavers, and other hardscape products to create outstanding designs.
Orlando is a great market for remodeling. Pavers are an excellent way to update the feel of any house or yard. If you live in the 407 area and you are considering having your outdoor living quarters updated with concrete, stone, travertine, or brick pavers, please call us for a free estimate and we will gladly help.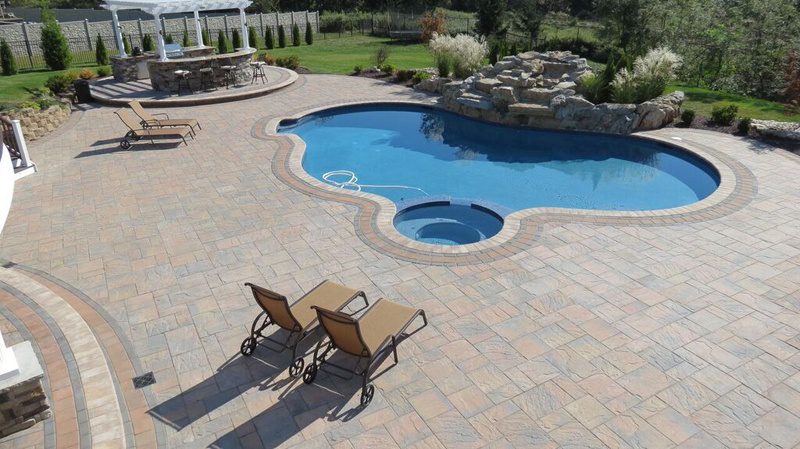 Very strong and stain-resistant paving material.
Wide variety of brick colors and textures.
Made of clay or concrete and aggregate and dyed to look like brick.
Sealants can help prevent fading.
For a permeable paver system, bricks can be laid with small gaps between them so water can drain through to the sub-base.
Very strong and durable types of pavers.
Made of molded concrete mixed with aggregate.
Available in a variety of colors and styles with interlocking patterns. 
Some concrete pavers dyed to look like brick.
Interlocking concrete pavers with small gaps between them allow water to drain through.
Must be sealed to retain color.
Absorbent, so often used for pool decks and other pool areas.
Most common types of pavers are flagstone or fieldstone.
Travertine pavers retain their natural color and withstand the weather; seldom need cleaning.
Limestone pavers are strong and often used for edging.
Natural stone is not ideal for high-traffic areas because it can break under pressure.
More expensive than bricks and concrete.
Paver Installation & Repair Orlando
We take pride in only providing work that meets the highest quality standards. We are trained and educated in all areas of safety. Throughout your project, we ensure that we follow all safety procedures. Safety is very important for those in the paver business. We can assist you with driveway repair, paver renovations, patio pavers, and more.! Regarding your residential paving or commercial paver needs, we are the company you can depend on. We understand the challenges that are faced when concrete is not appealing to the eye or when it is breaking. This is when you call us. You can expect the best in paver services all of the time and nothing less.
Our highly skilled concrete professionals ensure that you understand our plan and what to expect. This makes our company the best paving contractor in Orlando FL. Sealing your pavers is a great way to protect your investment from the harsh Florida weather. Sealing old jobs can transform faded and aged pavers back to their original state. Call us today for an estimate. We can help you with all of your pavers needs throughout Orlando!